Wood Laser Logo
Logo work on wood has been highly sought after for the last five years. Especially in recent years, the fajita wood laser logo under the fajita pans, wood logoing on the steak boards, and the wooden logoing of the cheese board have become sought after.
Which Wooden Products Are Laser Logo Made?
Although we have not restricted this much, Cafemarkt's customers have mostly made wooden laser logos on these products:
Fajita board wooden laser marking
Steak board wood laser marking
Cheese board wood laser marking
Pizza board wood laser marking
Wooden laser engraving on breakfast plate presentation board
Wooden laser logo on the burger presentation board
Why Laser Logo on Wood?
Laser logo on wood looks clean first. So it looks flawless and smooth. The logo made with a laser is not easily deformed, so at least the wood does not get old.
Is There a Laser Logo on Every Wood?
No! Because after the wood laser logo, you will have a certain amount of the upper surface of the wood. For this reason, this removed wood must be of a type that will not lose its quality.
Can I Buy a Wooden Laser Logo Product From You?
Of course. In Cafemarkt's wide range of products, you can choose wooden products that are suitable for making wooden laser logos and if you send us your logo, we will do the wood logo work for you.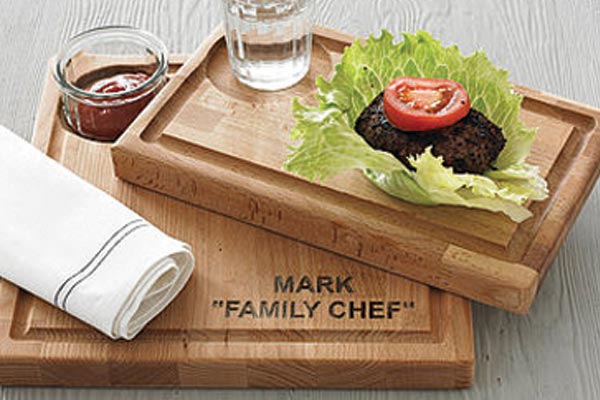 Does Wooden Laser Logo Last Long?
No! Following the supply of the products, the products are delivered to you in a laser logoed form within a few days depending on the number of products.
Wood Laser Logo Service
Cafemarkt also works on wooden logo works of cafe, hotel and restaurant logos. Logos are laser engraved on wood and become a corporate-specific product.
Laser logo on wood can be applied to all wooden products on the Cafemarkt site. The cost of logons varies according to the logo, the product, in short, the time spent and the product.
In order to get a price for logoing, the vector version of the logo, the desired size and the stock code information on the page of the selected product must be sent to info@cafemarkt.com with the requested number of products.
Cafemarkt will reach the result of the price study made with its experienced team as soon as possible and with the desired contact method.
Laser Logo Examples on Wood
You can see some examples below. Laser logo works can be made by Cafemarkt on all wood you see below. If you wish, you can buy the products from Cafemarkt, or bring them to us, and we can make logos.
Please note that laser logos cannot be made on all products, please consult us first.
+90212 514 5121